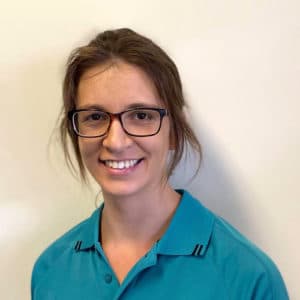 Stephanie has always loved exercise and was heavily involved in athletics for over a decade. She also played hockey and touch football for many years. This love of physical activity and sport combined with a deep care for people turned into a career as a physiotherapist, helping restore people from injury or pain to ensure they continue doing what they enjoy.
Stephanie graduated from a Bachelor of Applied Science (Exercise and Sports Science) in 2011, and a Doctor of Physiotherapy degree at Macquarie University in 2015.While studying, Stephanie conducted research with physiotherapists at the Australian Institute of Sport looking at predicting and preventing injuries in elite athletes. For the past 4 years Stephanie has worked with a range of sporting and musculoskeletal conditions and has trained extensively in the treatment of chronic lower back pain.
Stephanie developed a keen interest in women's health physiotherapy as a result of her experience during pregnancy and the post-partum months. She pursued this further and completed training with Taryn Hallam in women's health, followed by more specialised training for female athletes, and is currently training in APPI Pilates. She is determined to empowerpeople at all levels of fitness in anystage of life to live it to the full.
Outside of work Stephanie loves being a mum, will use any excuse to have a celebration with friends and family, and is currently enjoying CrossFit and running. Her idea of a good holiday is to hike in some of the most beautiful and rugged places in the world like New Zealand and Norway.
Stephanie works part-time. She is available for Physiotherapy treatment and Women's Health appointments on Tuesday's and Saturday's.