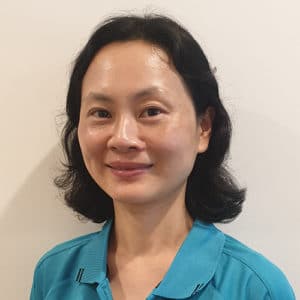 Massage & Traditional Chinese Medicine Therapist
Jie graduated from Shanghai University of Traditional Chinese Medicine (TCM) with a Bachelor's degree in Medicine, majoring in Acupuncture. She initially worked as a TCM practitioner in China and in the UK, but in 2013 she moved to Australia where she obtained her Diploma of Remedial Massage and has since been practicing massage therapy and acupuncture in Sydney.
Jie is a member of ANTA (Australia Natural Therapy Associate) and is a registered practitioner with AHPRA. She enjoys being challenged by complex patients and strives to deliver the best results for her clients. In applying both her acupuncture and massage therapy knowledge to each patient, Jie can help address any area of pain you may have, as well as providing whole body treatment. Drawing from her wide range of experience, she can give you advice regarding the possible cause of your pain and how it may best be resolved.
Jie is available on Mondays/Tuesdays/Fridays/Saturdays.