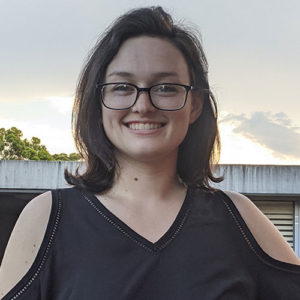 Aidan Garvey is a fresh massage therapist from a small town in West Virginia, USA. After moving to Australia in 2018, she completed her Diploma of Massage Therapy in 2019 and has spent her short time in the industry discovering her passion for helping those seeking optimal health. Aidan especially has a fervour for helping clients struggling with stress, anxiety, and depression. Her personal journey towards mental and physical wellbeing, and her understanding of how the body and mind work together to achieve optimal wellness, has given her a compassionate outlook when supporting her clients in their journey to peak health. Some of her favourite clients to work with are uni students, mothers, and senior citizens, however, Aidan's door is open to all who are seeking to optimise their health.
While some of her goals had to be deferred due to the 2020 interruptions to achieving the best further learning, Aidan is optimistically enthusiastic about 2021 and intends to take courses in pregnancy massage, aromatherapy, and dry needling to further her learning and enhance her practice. Further, into the future, she's excited to delve into the world of energy work to deepen her understanding of the complexity of the human psyche. Outside of the clinic, Aidan can most commonly be found at the gym lifting weights, running through the beautiful Australian bush, or relaxing at the beach.
Aidan is available on Monday, Thursday & Fridays.